The Graduate Experience
UConn Earth Sciences has a growing graduate program to train scientists, professionals, educators, and future leaders in the global earth science community.
The overall goals are to help students become thinkers and workers by:
Broadening their understandings of Earth as a coherent system of interacting components; and
Training earth science professionals to help manage the future of the only habitable planet in the solar system.
Specific objectives of the program are to:
Enhance the students analytical and technical skills --field, lab, modeling-- needed to solve complex earthly problems  and applying those skills for the benefit of the world's human and non-human beings.
Help students contribute to earth science knowledge through supervised original research and peer-reviewed publication.
Teach students to communicate effectively with the public to improve public awareness and to shape public policy.
*** The GRE is not required! ***
Grad Student Life
Our community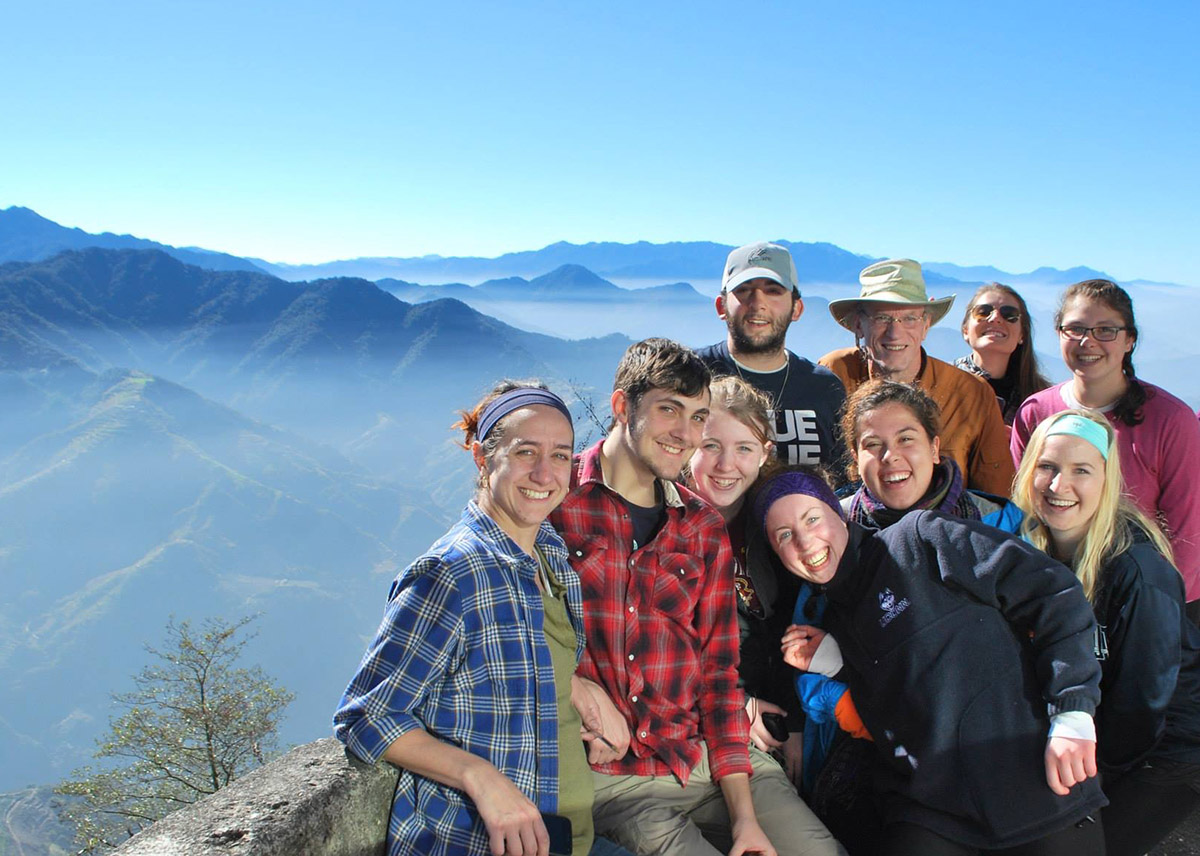 The graduate student group consists of 15-30 students. Students come from around the world, though most are from the United States.  All are provided with office and research space within faculty research labs and (or) shared with other graduate students. The required graduate core course (ERTH 5000) helps forge a supportive cohort of new graduate students.
The majority of our students receive multi-year funding through the department, mostly as graduate assistantships. These are either teaching assistants supported by undergraduate instruction or research assistants supported by external grants.
Graduate students and their faculty advisors work with a variety of other departments, programs, centers, institutes, and off-campus labs.  We support activities and events that promote faculty/graduate student interaction and collaboration throughout the year.
UConn offers limited graduate housing on-campus. Most graduate students live in apartments, houses, and condos around the Storrs area. Bike paths and an on-campus shuttle system makes it easy to get around the Storrs area, which contains a variety of restaurants, shopping and entertainment venues.
To learn about our current graduate students and their research, visit the graduate student page!
Degree Options
Degrees for your needs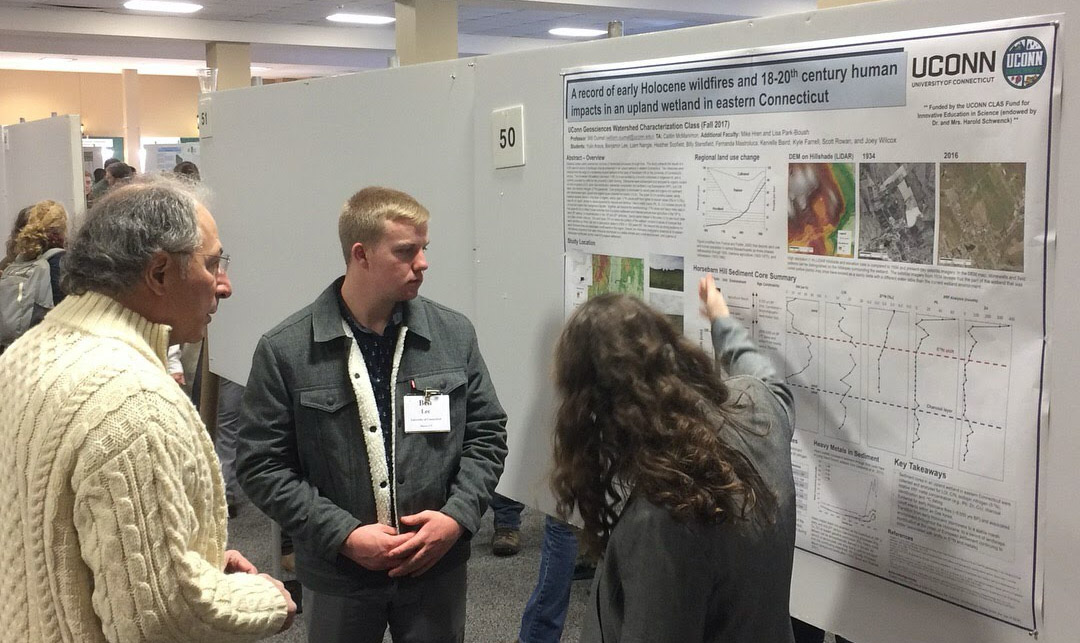 Ph.D.
The Ph.D. degree is designed to train research earth scientists, principally through original research under the mentorship of a major advisor and guidance by an advisory committee. Students must complete at least 30 credits of graduate coursework beyond a related B.A./B.S. degree or at least 15 credits of graduate coursework beyond a related M.S. degree, at least 15 credits of graduate research, a general examination, a research project culminating in a dissertation, and a dissertation defense administered by the advisory committee.
M.S.
The M.S. degree is designed to provide additional coursework and experience beyond a B.S. degree to train students to work as professional earth scientist, and(or) to serve as an intermediate step between the bachelors and doctors levels.
In earth sciences we offer two M.S. programs, and a third is pending.
Research-Based/Thesis. Students complete at least 21 credits of graduate coursework, at least 9 credits of graduate research, research project culminating in a thesis, departmental presentation, and a final examination administered by the advisory committee. Also called Plan A.
Coursework/Non-Thesis. Students complete 30 credits of graduate coursework and pass a final examination administered by the advisory committee. Also called Plan B.
Fifth-year M.S. Pending approval by the University, we plan a 4+1 (4 year undergraduate + 1 year graduate) M.S. in Environmental Earth Science specifically designed to train the earth science workforce. This plan streamlines and combines upper division undergraduate and graduate courses for a coursework M.S.
Application Requirements
What you need
Students entering the graduate program for both the Ph.D. and M.S. programs are expected to have a strong background in one of the foundation earth sciences (e.g., atmospheric sciences, biology, chemistry, geology, math, physics, statistics).
For admittance with Regular status, you must hold a baccalaureate degree from an accredited college or university and have a 3.0 (B) grade point average in the last two years of your undergraduate education. Your application must include official college transcripts, three (3) letters of recommendation, and a statement of your interests and goals. If English is not your primary language, you may be required to submit evidence of your proficiency in the English language.
Apply Today
Application Process
All application materials should be submitted directly to the UConn Graduate School. Please visit the graduate school website for all the necessary information about the application process, funding, housing and other resources for prospective graduate students at UConn.
Key Components
Most applications consist of four or five parts:
The formal application form provided by the Graduate School, together with the application fee
Transcripts from undergraduate and graduate institutions you have attended
Three letters of reference
Your personal essay (~2 pages)
If English is not your primary language, you may be required to submit evidence of your proficiency in the English language.
Pointers
While most of the application is self-explanatory, you may find the following pointers helpful:
Transcripts and test scores: These must be official (certified) copies
Letters of recommendation: The individuals who furnish your letters of reference should provide candid evaluations of your aptitude, training, motivation, scholarly promise, teaching talent, and ability to express yourself orally and in writing. Detailed comments are much more useful to the Admissions Committee than broad generalizations.
Personal essay: We require all applicants to provide a personal essay. This essay should include your reasons for undertaking graduate study, how that study fits into your short-range and long-range goals, and what specific research areas of projects you would like to undertake as a graduate student. The latter is often enhanced by contacting a specific prospective faculty advisors in our program. Your essay should also highlight your motivation for doing graduate work, any relevant training or professional experiences you have had, and academic honors, scholarships, fellowships or other awards you have received, and aspects about your background that you wish to draw notice to. You may also want to discuss your academic strengths and weaknesses. The objective is to provide as complete a picture of you as an individual as possible to the Admissions Committee, including and stressing information that goes beyond just numbers and scores. Detailed and well-thought-out comments are much more valuable to the Committee than generalizations.
Deadlines
We accept applications for admission at any time.  Submission prior to January 10 is strongly encouraged for the subsequent fall admission. The corresponding application deadline for spring admission is October 1. Applications submitted after these target dates may miss opportunities for teaching assistantships and scholarships that are administered by groups of applicants.
Course Offerings
All entering graduate students are required to take the Graduate Core Course (ERTH 5000), taught every fall semester. The remainder of courses are arranged by the student under the guidance of the advisory committee. Presently, they will be a mix of stand-alone graduate courses in other departments and advanced versions of courses cross-listed with undergraduate students. For the list, consult the graduate catalog.