The Stone Pavilion Project
Collaboration
The initial phase of our project focussed almost exclusively on two main projects: (1) researching the historic construction of the pavilion and (2) doing the technical inventory, photography, identification, and interpretation of the 50 stone specimens.
Eventually, our collaborations will extend broadly across UConn and beyond.  We invite anyone with an interest to contact us and share with us.  Below are the names of organizations and offices we have either already reached out to or plan to reach out to as soon as the website is launched.
University of Connecticut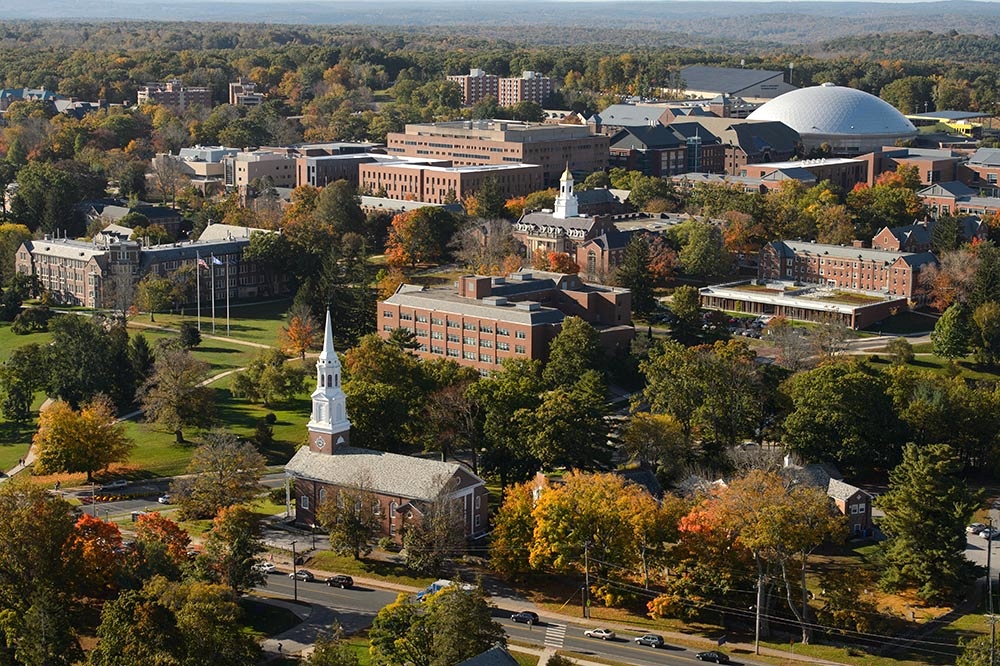 We are in the process of reaching out to or collaborating with these offices.
College of Agriculture, Health, and Natural Resources. They likely have information about the history, significance, and use the stone pavilion as a symbol of sustainability and regenerative agriculture.

UConn Libraries and Archive..  We remain on guard for more information turning up. Sarah Harrington and David Avery have both been contacted. Student research projects are welcomed.

We expect the Foundation, Communications, UConn Magazine, and the the Alumni Association will be interested in the pavilion mainly for its historical symbolism and opportunities for student involvement.

Student Activities. When the pavilion is more widely known, we imagine it being part of student trivia contests and scavenger hunts. Student Sydney Dudda helped with the correspondence with state geological surveys.

Campus Orientation, Residential Life, and First Year Experience. The stone pavilion would make a nice stop on admissions and orientation tours.  For out of state students, knowing that campus has a piece of their home might help them attach to UConn.

Admissions: When more widely known, we hope the pavilion will be used as a memorable and unique spot for campus tours.

NEAG School of Education. We plan to work with the Department of Curriculum and Instruction to develop materials for Earth Science Teaching, and to get the site in their repertoire of training opportunities.

Planning, Design, and Construction. UConn owns the pavilion site as part of its historic district. So any physical action to improve it will go through them.  When this site is launched, we will explore opportunities to enhance the protection and observation, perhaps replacing the iron grate with polycarbonate and lighting the specimens as with a museum exhibit.

Early College Experience (ECE). Geoscience courses are now being taught at Connecticut high schools.  A good website, supplemented by teacher workshops in Storrs, can bring this aspect of geoscience education to CT High schools.
State of Connecticut
Related State Agencies.
Connecticut Geological and Natural History Survey within DEEP is already a collaborator. They have internships and engagement programs that can make use of this site for state purposes. They have an office in Beach Hall.

Connecticut State Museum of Natural History within the IoE at UConn is a logical collaborator, especially with their programs.

Connecticut Office of Tourism. When upgraded, the pavilion will be a worthy mention.

Connecticut Dept of Education. We will be creating a module to link the elements of the geheritage site to the NGSS (Next Generation Science Standards) for Earth Science.
National
Related National Organizations and Agencies.
Geological Society of America. They have a program of geoheritage with presentations and workshops and short courses at regional and national meetings.

National Academy of Sciences and Engineering. They have a special initiative on advocating for and promoting geoheritage initiatives.

National Park Service. They are the lead organization at the federal level, and keep a list of geoheritage sites that we will nominate to.

Association of American State Geologists. They are already collaborating and helping.

American Geological Institute. Working with the NAS, they help promote geoheritage at the national level.

National Association of Geology Teachers. Such resources are always welcome.

U.S. Geological Survey. They are emerging as a leader in this movement.

U.S. National Science Foundation. Though there is no directorate, these projects are part of their "broader impacts" approach. They fund developments.
International
Related International Organizations and Agencies.
UNESCO - International Commission on Geoheritage

IUCN - International Union of Conservation of Nature.

ProGEO - European Organization for Geoheritage